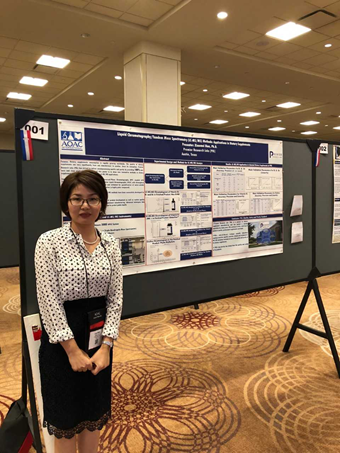 Xiaomei (Mei) Bian Ph.D, Analytical Scientist at Premier Research Labs
Xiaomei (Mei) Bian Ph.D has recently returned from Toronto, Canada where she talked about her research work on a poster presentation at the AOAC (Association of Official Agricultural Chemists) International Conference. Titled "Liquid Chromatography – mass/mass Spectrometry (LC-MS/MS) Application in Dietary Supplements" she summarized her work as follows:
"Advanced techniques help ensure the quality and purity of dietary supplement products and protecting public health.
LC/MS/MS methods are a significant part of product development as well as routine quality control testing at PRL, a pioneer in dietary supplements manufacturing."
Mei has been with the company since December of 2014. She holds a B.S Degree in Anesthesiology from Wan Nan Medical College in China and a Ph.D in Pharmaceutical Sciences from Texas Southern University in Houston.
Mei's work focuses on liquid chromatography coupled with tandem mass spectrometry (LC-MS/MS) method development and its applicability in the quality testing of dietary supplements.
While mass spectrometry is a powerful technique applied on large scale in the pharmaceutical industry, only a handful dietary supplements companies currently invest in it, despite the enormous advantages LC-MS/MS present over a more mainstream HPLC-UV: improved accuracy and precision, selectivity and sensitivity, to name a few. It is the preferred technique over highly polluting normal phase chromatography which require the use of 100% organic solvents, and one of the very few techniques available for assays of very polar compounds like choline.
AOAC INTERNATIONAL is a globally recognized, independent, third party, not-for-profit association and voluntary consensus standards developing organization founded in 1884. When analytical needs arise within a community or industry, it represents the forum for finding appropriate science-based solutions through the development of microbiological and chemical standards. AOAC standards are used globally to promote trade and to facilitate public health and safety.
AOAC develops analytical methods for a broad spectrum of safety interests including dietary supplements and its extensive membership, volunteer base and industry partners are made up of government agencies, academia, international organizations, laboratories, contract research organizations, industry, etc.
Of the many presentations at this year's conference, several deserve special attention:
The Canadian Food Inspection Agency (CFIA) presented their pesticide residue screening method capabilities, targeting screening of 845 pesticides in fruit and vegetables using data independent acquisition and compound database.
The risk for public health posed by processing derived glycidyl fatty acid esters (GEs) and 3- and 2- monochloro-propane-diol (3-MCPD and 2-MCPD) were evaluated as potential markers for discriminating between authentic natural and processed olive and other vegetable oils in a study presented by Netherland's RIKILT Wageningen University & Research.
NSF International & Thermo Scientific's presentation was on Next Generation Sequencing (NGS) for food authenticity, traceability and safety. Brand new technology launched by Thermo Scientific will contribute to DNA Barcoding and whole genome sequencing for validation of botanical raw materials and finished goods.
Development of botanical reference standards and monographs by the United States Pharmacopoeia is currently ongoing in three of the compendia: The Food Chemical Codex (FCC), the Dietary Supplement section of the the United States Pharmacopeia (USP), and the Dietary Supplements section of the Compendium.
An application to participate in these programs and for becoming a member of a USP Expert Committee has been submitted to USP by Mei.
We wish Mei best of luck and look forward to her participation in these prestigious programs.