Premier Metabolic Protocol
Save 15% when you purchase 3 or more units of each product in the protocol below
SPECIAL BONUS OFFER: 20% off Max B-ND 2 fl oz when you purchase 6 or more units. Use promo code MAXB20 at checkout (while supplies last)
A well-functioning metabolism lays the foundation for vibrant living. Support weight management, cognitive clarity, and vibrant energy levels by prioritizing metabolic health.
Our Metabolic Core Essentials is a comprehensive, foundational strategy that ensures you are supporting the key health areas that may often be overlooked in any metabolic health equation. The products selected ensure premier support where your client may need it the most.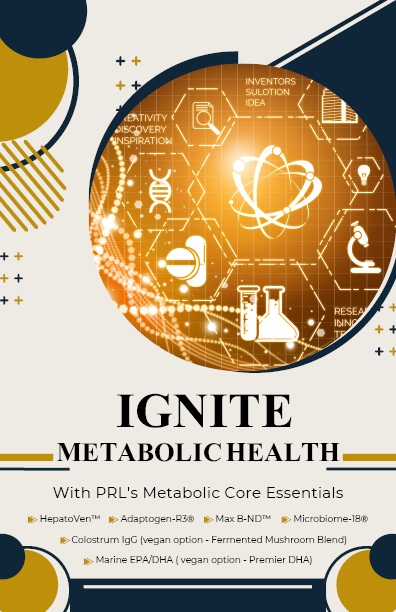 PRL's Resonant Philosophy of Health - A Bio-Resonant Healing Hierarchy:
Targeted Whole Foods Nourishment.

Manifest the Mosaic of Cell Membrane Health.

Balance the Biosphere to enhance Bioresonance.

Sustain the Symphony of Digestion.

Enlighten the Entanglement of a burdened body, mind, and spirit.

Empower Immunity by modifying and stabilizing the most critical adaptive elements.
With Premier Research Labs, you have a partner in your mission to empower your clients towards radiant health. We are here to support you every step of the way, providing you with the tools and strategies you need to help them achieve optimal well-being.
Targeted Whole Foods Nourishment
When it comes to metabolic-related health issues, the efficiency of cell respiration and energy production can become significantly impaired, reflecting a state of nutrient deficiency. Modern diets offer an abundance of convenience foods, that contain harmful chemicals, and low vitality, negatively impacting the body's bioenergetic field. PRL's Resonant Philosophy of Health is grounded in targeted whole foods nourishment. Plants provide essential nutrients and bioactive compounds to fuel cell respiration and the production of adenosine triphosphate, or ATP. ATP is not only the energy currency of the cell but is also a critical cell-signaling molecule. By sustaining the body with plant-derived matrices of Premier Quality nutrients and phytochemicals, the feedback loops of life can be nourished, unburdened, and tuned toward radiant health.
HepatoVen: Unlock the potential of liver support with HepatoVen, a synergistic formula containing milk thistle seed extract, turmeric rhizome, artichoke leaf extract, and other beneficial ingredients. This comprehensive blend enhances antioxidant effects, detoxification pathways, and metabolic health, promoting optimal liver function and overall well-being.
EPA/DHA: Elevate your cellular health with Marine EPA/DHA, a premier fish oil sourced from EFA-rich fish like sardines, anchovy, and mackerel, caught sustainably from the wild. Purified using a gentle, solvent-free, cold filtration process, this formula provides essential fatty acids (EFAs) crucial for maintaining cell membrane fluidity and metabolic health, supporting clear cell communication, nutrient uptake, and waste removal. Enjoy it in a liquid form with a pleasant organic lemon flavor or opt for the sustainable fish gelatin softgel for a mild taste experience.*
Max B: Achieve bioresonance and metabolic balance with Max B-ND, a potent probiotic-fermented blend containing 13 active forms of bioavailable B-vitamins. This premier liquid B-complex with postbiotics rapidly delivers energizing potency for optimal cell respiration, mitochondrial metabolism, and overall biosphere health. Suitable for strict vegetarians, vegans, and those with dietary or absorption challenges, Max B-ND reduces homocysteine levels, supports mind and mood, and enhances energy levels, making it a crucial metabolic health essential for vibrant well-being.*ic health essential that helps reduce homocysteine levels, modulate mind and mood, as well as support energy levels and cellular metabolism.*
Microbiome-18: Cultivate optimal digestive health with Microbiome-18, a standout probiotic offering 18 diverse strains and 15 billion CFUs per capsule. This full-spectrum blend, featuring the clinically studied Bacillus subtilis DE111®, fosters a healthy gut microbiome to support bowel regularity, innate immunity, and weight maintenance by enhancing lipid metabolism and insulin sensitivity. Recognizing the link between metabolic health and gut ecology, Microbiome-18 addresses gut dysbiosis caused by environmental factors, promoting overall bioresonance and reducing the risk of conditions like obesity, diabetes, IBS, and IBD.
Adaptogen-R3: Embrace the power of 21st-century herbal allies with this full-spectrum multi-adaptogenic formula. Featuring botanicals like Rhodiola rosea, Eleutherococcus senticosus, Curcuma longa (turmeric), Lepidium peruvianum (maca root), and Opuntia ficus-indica (prickly pear cladodes), Adaptogen-R3 enhances resilience to internal and external stressors, nourishes adrenals and endocrine glands, and modulates inflammation with its innate antioxidant compounds. By supporting the body's ability to combat fatigue, enhance endurance and stamina, manage occasional burnout, and foster a healthy mindset, Adaptogen-R3 plays a vital role in our Resonant Philosophy of Health, empowering the body to adapt and optimize its bioenergetic capacities for the demands of modern life.
Colostrum-IgG: Discover the power of immune system coherence and resilience with our premium Grassfed Colostrum IgG. This naturally occurring source of deeply nourishing and immune-empowering compounds supports effective immune and metabolic function*. Packed with critical growth factors, immunoglobulins (IgGs), and a range of antioxidant vitamins (A, K, E, D, and C), our low-heat processed colostrum is obtained from grass-fed dairy farmers committed to producing quality colostrum that passes USP pesticide testing. Choose from convenient capsules or powder form to promote immune health and efficient metabolism, empowering your body to adapt and modulate responses to external pathogens and internal imbalances, fostering optimal well-being and overall bioenergetic harmony, a key principle in our Resonant Philosophy of Health.
PRL Protocol Series – a Comprehensive Journey toward Personalized Wellness
Informed by quantum medicine and traditional medicine principles, PRL's Resonant Philosophy of Health and our Practitioner Protocol Series, offers guidance to practitioners and their clients on a healing journey that can uniquely nourish, revitalize, metabolize, detoxify, and empower overall health. These protocols are designed to cultivate resilience against disease, propagate, and harvesting the radiant potential of health that exists within each person. Let the healing journey begin from the cell, outwards!
Dr. White Webinar
Are you ready to take your practice to the next level and establish a solid foundation for optimal health and healing? We are thrilled to invite you to view our record-breaking online seminar, "Are You Ready for the New Foundation of Health?" featuring the esteemed Dr. Stuart White.
In this dynamic mentor-to-mentor masterclass event, Dr. White, along with Will Marsh, Director of Sales for Premier Research Labs, will take you on an enlightening journey through the "7 Pillars of Health and Healing." These pillars serve as the framework for establishing a system of sequential bioenergetic upregulation in your practice.
This is a unique opportunity to learn from two respected leaders in the field and revolutionize your approach to health and healing. Watch this online seminar event today, and dive right into the valuable content and start implementing these principles into your practice.